Choosing the appropriate sherwani for your wedding, a thorough guide designed to assist modern grooms in navigating the complex world of ethnic wear. As weddings embrace cultural opulence and couples strive to merge tradition and modernity, the sherwani for groom takes the center stage.
Indian weddings are big and lavish, which is why choosing the right outfit for the event is difficult. Gentlemen, isn't it true that choosing the right outfit for you is a difficult task? Because on the day of your wedding, everyone's concentration is on you. This is how it becomes important to make sure you simply look your dashing best.  
So as long as you follow this groom's guide to choose the perfect sherwani for your wedding you will decode the formula making the sartorial fashion choices. Read below:  
Step 1: Choose sherwani according to your personality   
Consider your taste and personality before making the purchase. Make sure you go through a variety of sherwani to choose the one that suits you the best.  
Step 2: Fabric and color matter a lot.  
Another crucial factor is the fabric and colors. We frequently equate heavier materials with higher quality and higher cost, but this is not the greatest strategy to choose the best fabric. You must consider which season your wedding is taking place and your preferences.   
Step 3: Fitting in the outfit is a necessity!  
One of the most important factors while you choose your wedding sherwani for men for the big day, know that proper fitting is a must. it is the only key to get a killer look in a wedding suit.   
Step 4: Accentuate your wedding outfit look by adding accessories.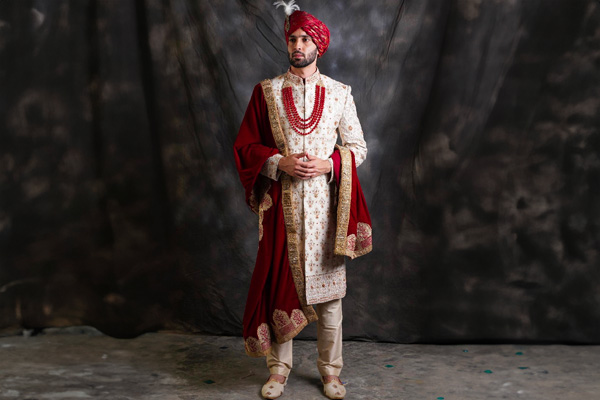 Accessories can also be as important as choosing a wedding suit. You just need to add the elegant ones that go with your sherwanis and style to your appearance.  
Tips to Choose Varied Types of Outfits for Different Wedding Rituals   
For Mehendi  
This is the ideal function where you can sport in a printed bundi that looks attractive and quirky at the same time over a plain kurta-pajama set. Accessorize yourself with handy sunglasses to elevate the cool look.  
For Sangeet  
Grooms can opt for a bandhgala and trousers set for themselves to experience a sartorial fashion adventure. Choosing a long cowl kurta layered with palazzos can give you a classy look. Accentuate the look by adding a hint of color to the pocket square.  
During Pheras  
Go for cream and a mix of red shade of embroidered sherwani. A subtle string of emeralds and a matching stole with the sherwani will add on a regal allure look.  
Reception  
Thinking of stirring Indianness for your reception look? You can amp up your embroidered kurta set with mirror work blazer and slicking leather shoes and cufflinks to add the final flourish.  
Need more advice on the looks that will work best for you? Sign up for this ultimate fashion destination that keeps you updated with trends and assists you in the journey of finding your taste in fashion.